Salkantay Trail is considered to be one of the best trekking routes that leads to the Historic Sanctuary of Machu Picchu. It follows an Incan trail that crosses the flank of snow-capped Mt. Salkantay which is one of the highest (6271 masl.) and most beautiful mountains in the Cusco region.
Etymology
Some authors state that the name of Salkantay Mtn. comes from the contraction of 2 Quechua words: "salqa" meaning wild, and "antay" meaning avalanche. The name is often preceded by the term Apu which signifies God in Quechua.
One of the best trekking routes
"National Geographic" featured the Citadel of Machu Picchu along with Mt. Salkantay on its cover. The publication named this trekking route one of the top 28 trekking routes in the world for the year 2017. The Salkantay to Machu Picchu route was featured in a 19 page spread. The magazine described this new 5 day trekking route to Machu Picchu.
The Salkantay trek is the second best option for those adventurers who want to trek to Machu Picchu. The route allows the trekker to see awesome sights, and to visit colorful villages where the old traditions still live on in the hearts of the inhabitants. Perhaps the most impressive thing about this hike is the opportunity to contemplate a vast diversity of flora and fauna in its natural habitat. As you travel through different elevations, you will notice the changes in the plant and the animal life.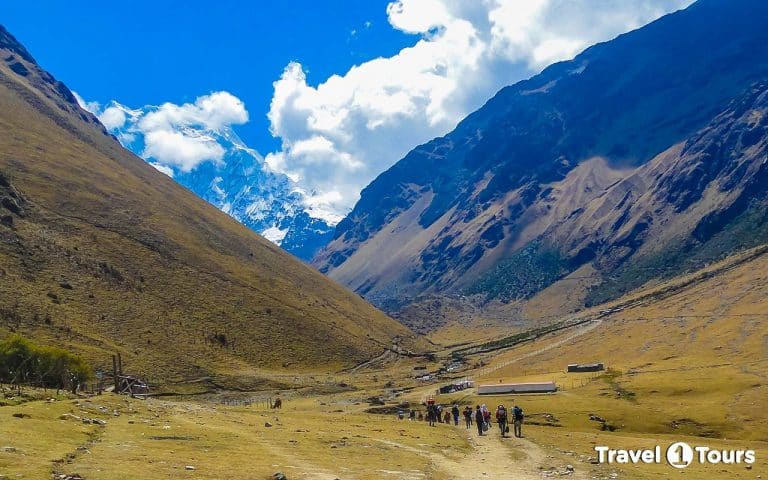 This trek differs from the classic Inca Trail trek in that you will be visiting places seldom visited by tourists. You will be able to actually enter into the Andean world and interact with the people of the Andes.
This trek begins at Soraypampa – Mollepata, at an altitude of 3850 masl. From here you will be able to appreciate the beauty of the snow-capped peaks of the Salkantay range. You will hike over the flanks of the Salkantay massif. Then you will cross over the pass that leads down into the eyebrow of the jungle.
To sum it up: the awesome majesty of this high peak, the Incan trails leading to Machu Picchu, and the vast biodiversity along the route make this one on the finest trekking routes in the world.