Cusco – Peru, is set among the splendor of the great rocks and cliffs of the high Andes Mountains. There is no place in the world like this ancient Capital of the Incan Empire. This beautiful city is full of historical monuments and relics which seem to come alive when you walk down the pre-Columbian passageways. Cusco is also the capital city of the Cusco region.
The Cusco region is by far the most important tourist destination in Peru, and because of the great quantity of amazing sites that are found here, it is one of the most important tourist destinations in the whole world. The region offers the visitor a spectacular historical legacy and an ample variety of tourist activities. Nevertheless, the most notable characteristic of this city is the friendliness and the hospitality of its people.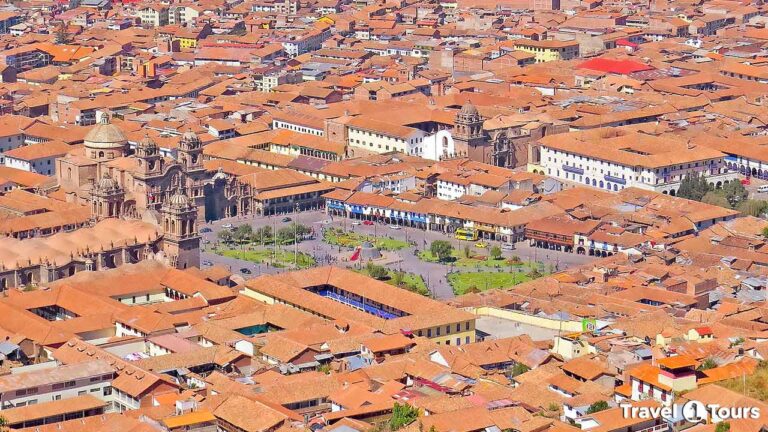 In this Tourist Guide for Cusco we are going to explain everything that you need to know in order to visit this magical region.
Etymology
Cusco or Cuzco comes from the Quechua place name QOSQO that means BELLY BUTTON or CENTER OF THE WORLD. And this signifies that, according to Andean tradition, the three worlds of Andean Cosmovision (Ukhu Pacha, the underground world; Kay Pacha, the earth plane; and Hanan Pacha, the world above) all flow together and are present here.
The Location of Cusco
Where is Cusco located? The Cusco region is located in southeastern Peru, between the valleys of the high Andes and the upper portion of the western Amazon basin.
Capital: Cusco.
Surface area: 71,986,50 km².
Co-ordinates: 13º 30'45″. South Latitude. And between Meridians 73º 59'52'' and 73º 57′ 45″ West Longitude
Population: 1, 205, 527 inhabitants according to the 2017 Census.
Provinces: Acomayo, Anta, Calca, Canas, Canchis, Cuzco, Chumbivilcas, Espinar, La Convención, Paruro, Paucartambo, Quispicanchi and Urubamba.
Area: 72,104 km2.
History
Cusco is the oldest continually-inhabited city in the Americas. Its history stretches back at least 3000 years and its beginnings are lost in the dawn of civilized man. We know that its first inhabitants were the Huallas, the Alcahuisas, the Sahuaseras, the Poques, the Lares, the Antasayac, the Ayarmacas and the Pinaguas. Around 800 years ago, about the year 1200 A.D., Inca Manco Capac left the Lake Titicaca region and founded the ancient capital of Tahuantinsuyo, which means the Empire of the Four Regions (or Directions). The four regions were called Antisuyo, Collasuyo, Chinchaysuyo and Contisuyo, and Cusco was to become the centrally located, administrative capital of them all.
For over a century, Incan civilization developed both politically and socially. Great scientific strides were made in the fields of hydraulic engineering, architecture, medicine, astronomy, weaving, agriculture, ceramics and other sciences.
But this great flowering of Incan civilization was cut short by the Spanish Invasion. On March 23, 1524, Francisco Pizarro and his soldiers marched into Cusco and ended three centuries of Incan advancements. Then there came the Colonial Period, followed by the Revolutionary Period, and finally, after Peru won its Independence, the Republican Period.
Now, in the 21st Century, Cusco has become the world's most cosmopolitan city that, every year, welcomes thousands and thousands of travelers from every corner of the globe.
Modes of Access
You can get to the Imperial City:
Via Air
There are regular flights to Cusco from Lima, Arequipa, Juliaca and Puerto Maldonado. From these points the flight time varies from 1 hour to 90 minutes.
There are also seasonal flights (June – November) from Iquitos, Pisco and Trujillo.
Finally, there are international flights coming in from Santiago de Chile and Bogotá.
Overland Travel
There are buses available that depart from Lima – Nazca – Puquio – Abancay – Cusco. Distance from Lima: 1,105 Km. Time of the journey from Lima – Approx. 21 hours.
Lima – Arequipa – Cusco. Distance: 1,650 Km. Time of the journey by bus from Lima via Arequipa – Approx. 26 hours.
Puno – Cusco. Distance: 384 Km. Time of the journey to Cusco from Puno. Approx. 6 hours.
Puerto Maldonado – Cusco. Distance: 477.6 km. Time of the overland journey from Puerto Maldonado. Approx. 8 hours. The Inter-Oceanic Highway connects Puerto Maldonado to Brazil.
Via Railway
The railway line of southern and southeastern Peru runs from Arequipa and Puno to Cusco.
Altitude
The Incan City of Cusco is found at an elevation of 3,399 masl. But the elevation of the entire region of Cusco varies between 532 masl. at Pilcopata to 6,372 masl. at the top of Mt. Asusangate.
Climate
The Cusco climate is generally mild and mostly dry. There are 2 different seasons, the dry season and the rainy season.
The Dry Season. The dry season begins in April and runs through November. The days are sunny, and the nights are chilly. Between May and July there can be frost at night.
Rainy Season. This season is from December through March.The days are frequently cloudy and rainy.
Because of all of the different elevations and ecological niches which exist in the Cusco region, many different climatic zones can be found.
The temperature tends to be hot in the lowlands, that is, under 2000 ft. above sea level.
The temperature tends to be mild in the inter- Andean valleys.
The temperature is usually cold up around the high peaks (above 3,700 masl).
The average annual temperature fluctuates between a maximum of 19.6 °C (67.3 °F), and a minimum of 4.2 °C (39.6 °F)
Tourist destinations
The Cusco region has a great variety of fascinating tourist destinations, both cultural and natural. Among these the most well-known are: the Incan Citadel of Machu Picchu, the Fortress off Sacsayhuaman, the Incan City of Choquequirao, the Fortress of Ollantaytambo, the circular terraces of Moray, and the fertile Sacred Valley of the Incas.
In order to have a more organized idea of the principle tourist attractions in Cusco, we will divide them into 2 categories.
Those that are within or near the city.
Those that are outside of the city.
Tourist attractions that are within or nearby the City of Cusco
Sacsayhuaman Archeological Park which includes Sacsayhuamán, Qenqo, Puca Pucará and Tambomachay.
Plaza de Armas de Cusco.
Cusco Cathedral.
Palace of the Archbishop.
Palace of the Admiral.
Inca Garcilaso de la Vega's House.
Larco Museum of pre-Columbian Art.
Museum of Religious Art.
The Twelve – Angled Stone.
Regional History Museum.
Santa Catalina Museum.
Casa Cabrera ( Cabrera's House).
La Casa de las Serpientes (The Serpent's House).
La Casa Concha. (The Concha's House).
The Jesuit Church.
La Merced Convent and Church.
Qoricancha (Incan Temple of the Sun).
Santa Catalina Convent and Church.
San Francisco Convent and Church.
The Inca Museum.
San Cristóbal Church.
San Blas Church and San Blas Neighborhood.
Inca Garcilaso de la Vega's House.
Temple of Our Lady of Triumph (Sunturhuasi).
Touirist attractions outside of the City
Inca Trail to Machu Picchu.
Hanging Bridge of Q'eswachaka (Canas).
Village of Paucartambo (Paucartambo).
Sacred Valley of the Incas.
Three Crosses Lookout Point (Paucartambo).
Incan Citadel of Machu Picchu (Urubamba).
Wari Ruins at Piquillacta (Quispicanchis).
Waqrapukara Archeological Complex (Acomayo).
Fortress of Ollantaytambo (Urubamba).
Pisac Archeological Park (Calca).
Tipón Temple Dedicated to Water (Quispicanchis).
The Incan Lost City of Choquequirao (La Convención).
Moray Archeological Park (Urubamba).
Chinchero Archeological Complex (Urubamba).
Inca Temple of Viracocha at Raqchi (Canchis).
Huacarpay Wetlands (Quipicanchis).
Traditional Village of Maras (Urubamba).
Rainbow Mountain.
Humantay Lagoon (Anta).
Salineras Salt Mines (Urubamba).
The Colonial Chapel in Andahuaylillas (Quipicanchis).
Salkantay Mountain and Ausangate Mountain.
To visit Cusco, we recommend our exclusive Vacation Packages to Cusco.
Tourist Events Calendar of Cusco
Ch'iaraje – Jan. 20 Traditional ritual battle between the villagers of Ch'eqa and Q'ewe. It takes place on the plains of Chiaraje (Yanaoca).
Carnaval of Cusco – Late Feb. or early March. Costumed festivities which bring together the people of Cusco as they play games and have fun. Trees are decorated with presents and alcoholic punch is drunk. And people throw water balloons at each other.
Holy Week – Late March or April. Holy Thursday and Good Friday processions.
Cruzvelakuy – May 2. The Veneration of the Holy Cross.
Corpus Christi – June. The most important religious festival in Cusco. The 15 patron saints of the 15 districts of the province of Cusco all come together in processions around the Plaza de Armas and Cusco Cathedral.
Pilgramage to Our Lord of Qoyllurit'i – May or June.
Inti Raymi – June 24. The Festival of the Sun (Inti Raymi) is catalogued among the most important celebrations in the world. The principle site of the festivities is Sacsayhuaman.
The Feast of Our Lady of Carmen in Paucartambo – July 16.
Huarachicuy – September. Traditional Inca Ceremony where adolescents are welcomed into adulthood by demonstrating their virility. It takes place on the fields of Sacsayhuamán.
Pilgramage to Sanctuary of the Lord of Huanca – September 14. Thousands of pilgrims from all over Peru, Bolivia, Paraguay, Argentina and Chile come to Cusco.
Santuranticuy – December 24. This is the crafts fair on the Plaza de Armas with a Christmas theme. Many figures are specially designed to be placed in nativity scenes.
Tourist Activities
There are so many interesting things to do in Cusco that it would be impossible to run out of fun tourist activities before you run out of time and money. So, if you are already in Cusco, or if you are thinking of visiting the wonderful Cusco region, below you will find a list of things that you might consider doing.
Adventure Tourism: Horseback riding, mountain climbing, canoeing, para-gliding, river rafting, motorcycle tours, bike riding, 4 x 4 adventures, extreme adventures, hiking and trekking.
Classic Archeological Tourism: Guided tours, visiting mueums and colonial churches, walking tours.
Ecotourism and bird-watching.
Live-in Tourism and Rural Tourism.
Student Tourism: excursions and graduating class promotions.
Gastronomy and local dishes
Thanks to traditional recipes passed through generations, and new ideas of fusion using flavors from all over the world, the gastronomy of Cusco is excellent. It has become one of the most varied, rich, and exotic in the world.
Some of the most popular local dishes that you really ought to try include:
Chiriuchu. This a a combination plate handed down from Incan times. It is traditionally served during Corpus Christi and Inti Raymi.
Pepian de Cuy. Cuy ( guinea pig) stewed with cornflour.
Olluquito with charqui. Stew that includes ollucos and jerky.
Lechón. Roast pork.
Capchi de habas. This is a seasonal plate made with lima beans, potatoes, and cheese, and seasoned with milk and hot peppers.
Adobo. Pork marinated in chicha and spices. Usually it is cooked in earthen clay pots.
Chuño cola or lawa de chuño. Exótic dish of Incan origin made with ch'uño (dehydrated potatoes).
Other popular Cusco dishes that you might enjoy are: adobo, Chicharrón (fried pork chops) with mote sauce), Cusco-style cuy (breaded and fried), tamales, humitas (vegetarian tamales), rocoto relleno (stuffed peppers), caldo de gallina ( chicken soup), etc.
And to along with your Cusco food, here are some traditional Cusco drinks:
Chicha (aqha). It is made from fermented corn and the recipe is pre-Inca. It is made from corn malt.
Frutillada cusqueña (Cusco style fruit drink). This drink is made from fermented fruit combined with corn chicha.
Mate de coca (coca tea): hottea made with coca leaves which have medicinal properties and help digestion. Coca also helps one to adjust to the altitude.
Tourist Services
Cusco is a world-class tourist destination, and it ia always possible to find great tourist services here.
Transportation
Airlines: LATAM Airlines, Avianca, StarPeru, Peruvian Airlines, LC Perú, and Viva Air Perú.
Overland Transportation (Bus Services): Cruz del Sur Imperial, Ormeño Royal Class, Palomino, Flores, Turismo MER and Tranzela.
Trains: PERURAIL and Inca Rail.
Tourist Transportation. There are all kinds of tourist transportation in Cusco. There are vans, buses, mini-vans, trucks, etc. Most of the vehicles now in service are brand new.
Lodging in Cusco
On Cusco there exists an immense variety of lodging possibilities. There are hotels, hostels, apartments, lodges, and inns.
For further information please visit our page: Best Hotels in Cusco.
Restaurants
If you want to eat the best food, Cusco has some of the finest restaurants in Peru. You couls visit our page entitled Best Restaurants in Cusco.
Then you will be sure to find just what you are looking for.
Hospitals and Clinics
Hospital Antonio Lorena. Address: Plazoleta Belén 1358 – Tel: 22-6511 / 22-6511 / 22-9616 / 24-5218
Hospital Regional del Cusco. Address: Av. de la Cultura – Tel.: 22-3691 / 51-84-227661 / 23-1131
Clínica Centro Médico Pardo. Address: Av. de la Cultura 710 – Tel.: 62-4186 / 24-0645
Clínica Panamericana. Address: Av. de la Infancia 508 / Wanchaq – Tel.: 65-1888 / 249494
Clínica Paredes. Address: Calle Lechuga 405 – Tel.: 225265
Hospital Nivel IV Anselmo Guevara Velazco (ESSALUD). Address: Av. Anselmo Alvarez – Tel.: 234724
Clínica CIMA. Address: Av. Pardo 978 – Tel.: 255550 / 241636
Tradicional Artesans Crafts Markets
San Pedro Market. Casqaparo Calle in front of the San Pedro Railroad Station.
Sunday Crafts Market at Chinchero. In the town of Chinchero.
Machu Picchu Crafts Market. In the town of Machu Picchu.
Pisac Traditional Crafts Market. In the town of Pisac.
Cusco Crafts Center. Av. Tullumayo 28
Malls
Cusco Comercial Center. Av. El Sol 224
Real Plaza Mall. Av. Collasuyo 2964
Ollanta Comercial Center. Av. El Sol 460
Sotomayo Comercial Center. Calle Márquez 227-231
Banks, cash machines, and change houses
BanBif. Av. El Sol 611 Cusco
Azteca. Av. La Cultura Nº 1404
Banco Central de Reserva del Perú. Av. El Sol 390 – Tel. 23-3181
Continental. Av. El Sol 366 / Calle Nueva 403 – Tel. 231152
Banco de Crédito. Av. El Sol 189 – Tel. 235255 / 22-4481
Banco de la Nación. Av. El Sol on the corner of Almagro – Telf. 233331
Banco Santander Central Hispano. Av. El Sol 457 – Tel. 23-5620 / 241269
Crediscotia. Av. El Sol 830 – Telf. 241512 / 221512
Interbank. Av. El Sol 380 – Tel. 22-4352
Scotiabank. Calle Maruri 315 – Tel. 26428721
ATM's Cash machines. The majority of these are located in the central historical district, at the airport and bus station, at the train station, and in comercial centers like the Mall.
Casas de Cambios (Money changing shops). There are plenty of these in the central historic district and at the airport. To obtain the best rate of exchange, we recommend that you use a casa de cambio which is not located in the airport.
Telephone numbers
National pólice. Tel.: 24-6088 / 25-2222 – Annex 208 // Address: Plaza Túpac Amaru P-15
Tourist pólice. Tel: 249654 // Address: Calle Saphy N° 510
Police emergency number. Tel: 105
Firehouse. Tel.: 221392 / 22-7211 // Address: Av. Garcilaso de la Vega N° 313
Civil Defense. Tel: 24-0658 // Address: Av. Pedro Vilcapaza B-9
COSITUC (The company that sells Cusco Tourist Tickets). Tel: 227037 // Address: Calle Arequipa A-2
DIRCETUR (Regional Tourist Office). Tel.: 223761 // Dirección: Plaza Túpac Amaru Mz. Lote 2 (Wanchaq).
Alejandro Velasco Astete International Airport. Tel: 22-2611 / 22-2601 / 23-7364 // Dirección: Av. Velasco Astete
Dirección Desconcentrada de Cultura de Cusco. Tel: 582030 // Dirección: Palacio Inka del Kusikancha, Calle Maruri 340
INDECOPI. Tel: 01-2247777 – Dirección: Urbanización Constancia Mz. A-11-2 (Wanchaq).
Useful Tourist Information
Cusco Teolephone area code: 84
Cusco Postal Code: 08000
Peruvian currency: Soles (S/).
Zone of Greenwich Mean Time: UTC/GMT -05:00 (-05).
Electrical current:

Volts: 220 V
Frecuency: 60 Hz
Plug-ins: Tipe A / B / C

Commercial Hours (reference):

Banks: 9:00 am until 6:00 pm, Monday- Friday. Saturdays: ):9:00 am – 1:00 pm.
Stores: 9:00 am – 9:00 pm.
Restaurants: 9:00 am – 10:00 pm.
Supermarkets: 9:00 am – 10 pm.
Central markets: 7:00 am – 5:00 pm.
When you travel to Cusco you re-connect with yourself as you make your dreams come true. To journey to Cusco is to enter into thousands of years of living history. Trip around the Land of the Incas at a relaxed pace, and to the rhythm of the sounds of the Andes.