If you are visiting Cusco, Peru, or thinking about coming to visit Cusco, you don't have worry a bit about finding top quality food. In Cusco, you will discover a wonderful gastronomical tradition. You can partake of one of the most varied and exquisite cuisines in the world. There are also a lot of exclusive restaurants which are famous worldwide. Plus, the restaurants in Cusco are noted for serving traditional plates that have thrilled demanding palates from all over the world.
The 9 Finest Restaurants in Cusco
Most of the best restaurants in town are located on or near the Plaza de Armas. They offer a grand variety of dishes, both traditional and international, that are sure satisfy every taste. The result is to exemplify the value of Cusqueñan cuisine, and to offer the absolutely best in service.
The Nine Finest Restaurants in Cusco. We recommend the following restaurants. They are among the most distinguished and the most visited spots in the city.
Chicha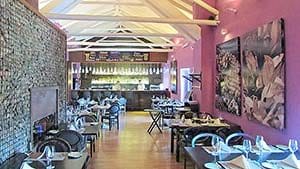 This is one of Cusco's top-flight restaurants that features the finest regional dishes. The owner is the famous Peruvian chef, Gastón Acurio, and Chicha is well-noted for its excellence.
Address: Plaza Regocijo 261
Phone: (84) 240520
Tunupa Restaurant Bar & Grill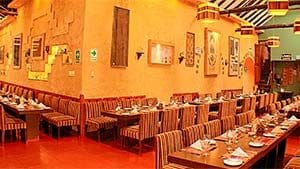 This restaurant serves one of the finest buffets in town. It is also a great place to enjoy a traditional artistic Peruvian dance and music spectacular.
Address: Portal de Confituría (plaza de armas) 233
Phone: (84) 252936
Incanto Cusco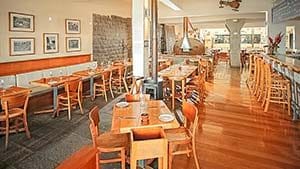 This wonderful restaurant features the exquisite flavors of Italian- Peruvian cuisine. Trattoria Cusqueña is also known for its great blend of Italian and Peruvian flavors.
Address: Santa Catalina Angosta 135
Phone: (84) 252936
Le Soleil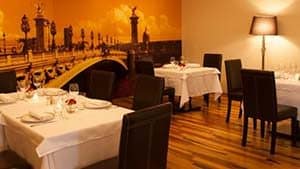 Le Soleil Restaurante features gourmet French food. Find here the flavors and wines of French culture.
Address: Calle San Agustín 275
Phone: (84) 240543
Want to know more about Cusco? Visit our Cusco travel guide and learn more about this magical Inca city.
Limo Cocina Peruana & Pisco Bar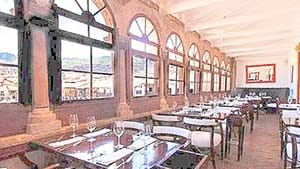 Limo Peruvian Cuisine & Pisco Bar features Japonese food re-invented for the Cusco región.
Address: Portal de Carnes (plaza de armas) 236
Phone: (84) 240668
Pirqa Resturant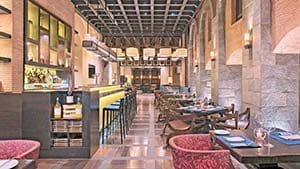 This is the in-house restaurant of Hotel JW Marriott in Cusco and it serves Peruvian food based on the finest local ingredients.
Address: Ruinas 432
Phone: (084) 582200
Green Point Restaurants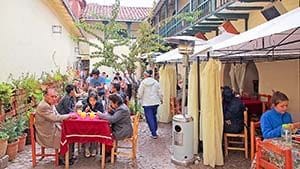 This is a vegan restaurant offering the highest quality organic natural foods. Ideal for vegetarians and lovers of healthy lifestyles.
Address: Carmen Bajo (San Blas) 235
Phone: (084) 431146
Cicciolina & Baco Restaurant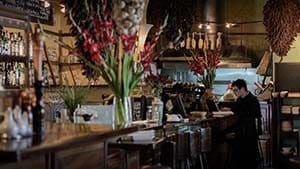 These are tapa bars where you can relax and enjoy Mediterranean style food and great drinks.
Address: Triunfo 393
Phone: (84) 239510
Qucharitas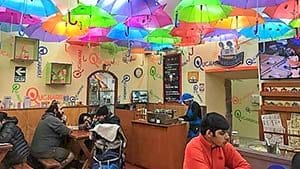 This is the best place in town to enjoy delicious ice cream and desserts made from natural ingredients.
Address: Procuradores 372
Phone: (084) 226019
Are you in Cusco and don't know what to do or where to go? Read our post what to do in Cusco and find fantastic ideas…
Where can you find traditional food in Cusco?
Cusco is famous not only for its tourist attractions, but also for its wonderful and varied traditional gastronomy. If you visit here, you are sure to find some fantastically great food.
Among the most delicious typical plates, some of which come down to us from the times of the Incas, are:
Chiriuchu cusqueño.
T'impu o Puchero cusqueño.
Pepián de cuy cusqueño.
Adobo cusqueño.
Rocoto relleno cusqueño.
Lechón al horno cusqueño.
Chicharrón con mote.
K'apchi.
And to accompany your lunch, don`t forget to try out the exotic beverages that are available here.
Chicha (aqha).
Frutillada cusqueña.
Mate de coca.
The best places to try out the great flavors of Cusqueñan cuisine:
Traditional market of San Pedro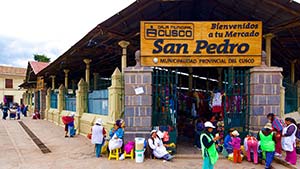 It is located 4 blocks from the Plaza de Armas. It is not exactly a restaurant. But a lot of adventurous travelers stop by here to try out the real food of Cusco. Here you are welcome to enjoy the latest scents, aromas, and flavors. You will be able to see how tradition and modernity blend and merge, and here you can enjoy the latest in novo andinos plates, prepered by delicate loving Cusqueñan hands.
Aquí podrás degustar los sabores y aromas de los platos novo andinos de la región andina de Cusco, preparados por las delicadas manos cusqueñas.
Picanterías in Cusco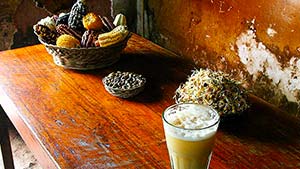 In Cusco there exist no better places to try out traditional dishes than at the local picanterías. Big portions and delicious flavors.
Among the large variety of dishes offered are soups made from tripe, ribs, lamb, hen, and malaya and pecho. There are typical plates such as cuy, chicharron, and adobo. Also available are extra side dishes.
In addition, most of these places are characterized by serving abundant portions of menu or food at good prices. They also offer live music shows.
We suggest the following spots:
Chomba Ajha Wasi
La Cusqueñita
El Muro.
La Lunareja
Sambleñita
If there is a place in the Americas where you can enjoy the most traditional food on the continent, it has to be Cusco. Although time has passed, Cusco has never forgotten its exquisite gastronomical legacy.