Humantay Lake or Humantay Lagoon looks like a turquoise blue mirror and is located near the flanks of the majestic snowy peak Apu Salkantay Mountain. The crystalline water of the lagoon has actually melted from the Humantay Glacier above. If you some day visit this spectacular destination, you will be able to see all up and down the magnificent mountains and glaciers of the Peruvian Vilcabamba Range.
This pristine Humantay Lake serves as a refuge for Andean wildlife. It is a special living icon representing the awesome beauty of Peru, and it is also one of the new adventure attractions and the most scenic destination in the Cusco region.
Everyday in 2019 Humantay Lake is visited by hundreds of adventure travelers. A person who chooses to come to Humantay Lagoon is a person who wants to escape the noise and the humdrum routine of the big cities. Here you can enjoy the perfect connection between Mother Earth and the Human Spirit. Breathe the absolutely pure air of the high Andes and explore places where the local people have maintained their culture and traditions for thousands of years. Here the traveler can observe nature in its wild state, and seek an unforgettable experience high in the Eternal Andes Mountains.
But this is not only a place of incredible colors and panoramic views, or a place where one can feel the magic of the amazing landscape. It is also a Sacred and a Mystical spot where one can witness the fragility of the terrestrial ecosystem and view the effects of climate change. Certainly, those intrepid travelers who come to Humantay Lake and witness these delicate interconnections between air, earth and water will return to their homes at lower elevations and act as goodwill ambassadors who have seen the effects the global warming.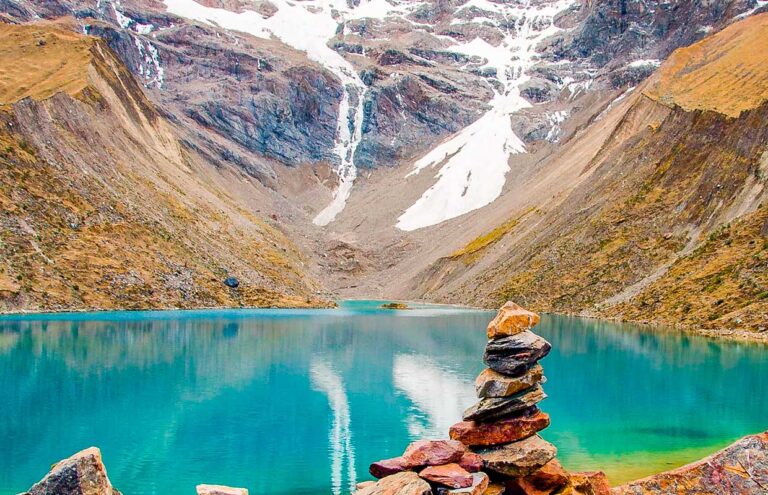 Where Does the Name Humantay Lake Come From?
Humantay comes from the Quechua word HUMANTAY, which means "Head of the Gods". This could possibly be because it is located at a dominant high point above the Amazon Jungle.
How Was Humantay Lagoon Formed?
There is not a lot of information about the geology of this lagoon. Geologists tell us that it is certainly of glacial origin. At some time in the past, snow and ice came down and covered the lower parts of the mountain. These great blocks of ice carved out depressions on the sides of the mountain. When the ice melted, the beautiful Humantay Lagoon was left behind.
On the other hand, local traditions tells us that Apu Humantay was the youngest son of Apu Salkantay. They were both in charge of rationing out and sharing the water that flows down from the eternal snows above to the villages and farms located on the sides of these great peaks. Therefore, these Apus are venerated by the local people and they are recognized as representatives of Pachamama.
For this reason you will be able to see innumerable "apachetas" (man-made piles of rocks) in the area. These are mounds of stones placed one on top of the other by local people or by travelers. They could be an offering of Thanksgiving to Pachamama, or of thanks for having made it safely to this Sacred Lagoon. Also, they could be used to ask for protection during the journey.
Where is Humantay Lake Located in Peru?
The turquoise blue Humantay Lake is located in the Cusco region of Peru. It is northeast of the City of Cusco high up on the side of the great snowy Humantay Mountain, close to the Soraypampa community in the Mollepata district.
The Elevation of Humantay Lake, How High is it?
Height: 4200 masl (13,780 ft.).
Co-ordinates: 13°24'41.72" South Latitude: and 72°37'2.43" East Longitude.
Extension of Humantay Lagoon: 618 meters long and 164 meters wide (approximately).
What is the Weather and the Temperature Like at Lake Humantay?
Because it is located high in the Peruvian Andes, the climate of Humantay Lagoon is cold. The average annual temperature is between 4 and 12 °C.
The daily weather varies considerably. From December through March it is quite cloudy, and sometimes the rains are very intense. On the other hand, during the dry season months, from April to November, the nights are cold and the days are sunny and warm. In June and July, sometimes there is snow and ice.
How to get to Humantay Lagoon?
If you wanted to get to the lagoon on your own from Cusco, we would recommend the following route:
Cusco – Mollepata. Take the bus to Mollepata from the Arcopata terminal. You will travel along Route PE-3S until you arrive at the Mollepata turn off. From there follow the paved road until you reach Mollepata. This bus ride costs 25 soles and the distance is 98.5 km. Usually the trip takes between an hour and 45 minutes and two hours.
Mollepata – Soraypampa. When you reach Mollepata pay the 15 soles fee that enables you to enter Humantay Lagoon. Then eat some breakfast. Next, find a taxi that will take you to Soraypampa. The route Mollepata – Soraypampa is a pretty good unpaved road, and the distance is 22 km. It usually takes an hour. Taxis charge about 35 soles.
Soraypampa – Humantay Lake. At the village of Soraypampa begin hiking up the trail that leads to Humantay Lake which is 2.25 km away. The time it takes you depends on what kind of physical shape that you are in, and how fast you want to walk. It usually takes somewhere between 40 and 80 minutes. If you find it necessary you can rent a horse for 90 soles. To make this hike it would be best to have really good hiking shoes.
You would return by the same route. One problem that you might encounter is that it is difficult to find a taxi that will take you from Soraypampa back to Mollepata. Therefore, it is a good idea to coordinate your return journey with the taxi driver who took you from Mollepata to Soraypampa in the first place.
But why make it so complicated? In the end you will probably spend more money trying to get there by yourself. It is a better idea to travel with your travel agency and forget about trying to contract separate taxi rides and figuring which restaurant is a good one for lunch. The price of an all-inclusive day tour to Humantay Lagoon is about $ 49 USD.
With a Travel Agency
This hike takes you up over 13,000 ft. above sea level (4,200 meters). That alone makes it difficult and, therefore, we recommend that you use a travel agency to get to Lake Humantay. That way you won't have to worry about anything except enjoying your Humantay Trek.
Why Should You Choose Travel 1? Travel 1 is the new excellent Tour Operator to this destination and we are committed to sustainable tourism on all our excursions. So, we guarantee you the finest service, the best tour guides and the safest transportation while traveling to Apu Humantay! We have guaranteed daily departures so you can rest assured that you will enjoy every minute of your expedition. This wonderful trek is all-inclusive. There are no hidden charges or fees. Also, you can make your reservation online on our web-site and use our absolutely safe booking and payment system.
Booking Online vs. Booking in Cusco. If you book your Humantay Trek online with Travel 1, you will have guaranteed your transportation and your entrance ticket into this panoramic site. Breakfast and lunch will be much better than other tour operators. You could also book your Lake Humantay Trip in Lima or Cusco. If you book this tour in this way you could possibly save a few dollars. But there would be no way of knowing if you were going to receive the top-flight service that you deserve
The prices which different agencies charge for Humantay Lagoon vary quite a bit. The most basic service itinarary costs about s/. 80.00 soles and you can find these tours for sale around the Plaza in Cusco. For just a little bit more money, Travel 1's top-of-the-line service is available for only $ 49.00 USD. Also, you could take a private tour for upwards of $ 200.00 USD.
Distance from Cusco to Humantay Lake
The distance between Cusco and Humantay Lake is 123 km. It is split up in the following way:
Paved highway from Cusco to Mollepata: 98.5 km.
Dirt road from Mollepata to Soraypampa: 22 km.
The hike from Soraypampa up to Humantay Lake: 2.5 km.
Difficulty Level of the Humantay Lake Hike
The level of difficulty for this hike is rated as moderate.
The trail starts out going up a pretty steep incline. Then the trail winds around curves and there are quite a few loose rocks. The final section is a short descent where you can look down and see the peaceful, clear water.
Aside from the loose stones, the cold, and the high elevation, it is a relatively easy hike.
Why is Humantay Lake Turquoise?
The magical turquoise color of the water in the lagoon is due to the purity of the glacial melt-water and to a species of algae called Microcystis aeruginosa y Oscillatoria.
The color is very vulnerable to human action. Irresponsible travelers or visitors have entered the lagoon and caused the water near the shore to change from turquoise to gray. For that reason entering the water is forbidden now. In order to preserve the unique characteristics of this wonderful destination, which is the one of the most amazing lakes in South America, we strongly recommend that you stay out of the lagoon when you visit this beautiful place.
What is There to See and to Do at Lake Humantay?
At Humantay Lagoon you can see:
Appreciate the incredible beauty of the lagoon itself and the view of the surrounding mountains. You will be right up close to the glacier covered summits of Apu Humantay and Apu Salkantay.
Observe the crystalline clarity of the waters of the lagoon, and get to know the exotic flora and fauna of this region of the high Andes Mountains.
In addition to this, on the hike up to Humantay Lagoon you will be able to breathe the cool, pure mountain air, and feel the peace and tranquility that it all around you.
Recommendations and Advice for Trekking To Humantay Lake
In order to thoroughly enjoy your trip to the new popular destination, Humantay Lagoon, here are a few tips.
Spend some time getting acclimated in Cusco before you start the hike.
You should be in good health and in good physical condition. Wear lightweight clothing that is appropriate for trekking. Use comfortable water repellant hiking boots. Long pants and long sleeved shirts are appropriate. Bring a wide brimmed hat. It could get cold. Dress warm.
You should bring sun block, insect repellant, a rain poncho, and walking sticks.
Bring cash money in soles. That way can buy something if you want to.
Morning is the best time to visit the lagoon. Then you won't chase away the exotic wildlife.
Finally, if you looking for a wonderful, exclusive trip to Humantay Lagoon, you could consider our Humantay Lake Tour as an option.
Would you like to transform your way of looking at Mother Nature? Visit Humantay Lagoon and become captivated by the amazing mountain landscapes, the crystal clear streams, the peaceful mirror-like lagoon, and by the exotic Andean biodiversity.